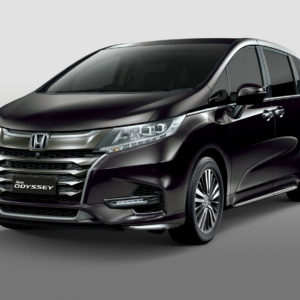 Untuk detail Produk bisa di Download Link dibawah ini :
New Honda Odyssey selalu aktif dengan cara dan gaya yang berbeda untuk menikmati hidup berkualitas dalam profesi maupun menghadirkan kenyamanan bagi keluarga.
Performa tinggi dari mesin i-VTEC with Earth Dreams Technology yang didukung transmisi CVT with Earth Dreams Technology menghadirkan kepuasan berkendara di sepanjang perjalanan Anda
Desain dashboard yang ergonomis memudahkan Anda dalam menjangkau tuas transmisi dan tombol pengoperasian lainnya.
Berbagai fitur terkini akan menemani mobilitas Anda yang tinggi.
New Honda Odyssey dilengkapi dengan berbagai fitur keselamatan kelas dunia, menghadirkan kenyamanan serta keamanan di setiap aktivitas berkendara Anda.